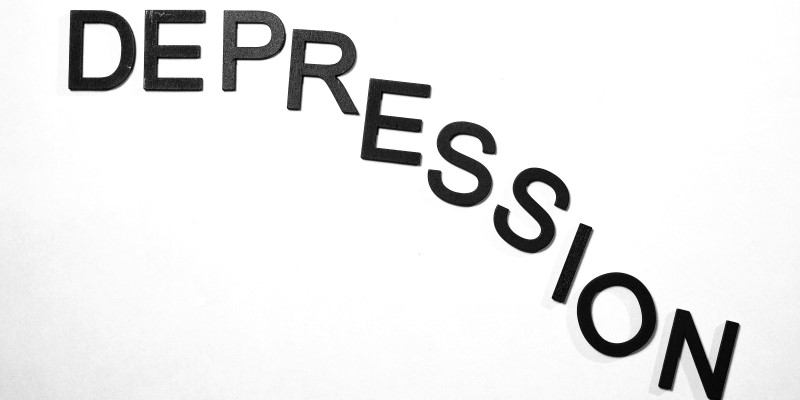 Welcome to our patient information about depression in adults. Here you can read about the diagnosis and get good advice on what you can do.
The psychiatry in the Region Midt Jylland treats depression in these teams:
Om diagnosen
What is depression?
Depression is a common term for conditions that range from temporary moods to severe, long-lasting and recurring illnesses.
The symptoms manifest as significant changes in the person's emotional life, thoughts, motivation and behaviour. The main symptoms are dejection, overly negative thinking, lack of energy and initiative, difficulties concentrating and maintaining an overview, problems sleeping, suicidal thoughts, anxiety and restlessness.
The symptoms can vary greatly from person to person. Some people experience few, relatively mild symptoms while others have multiple, severe symptoms. The symptoms can occur in different combinations and with differing degrees of severity.
Depression limits the person's ability to function normally at work, in their family life and leisure time. Their quality of life is reduced.
The World Health Organization (WHO) ranks depression fourth among the ten most serious illnesses in the world based on the reduction in quality of life and life expectancy that depressive illness can cause.
How does depression develop?
Depression develops differently from person to person. In most cases, the illness develops gradually over a period of months, but the symptoms can also occur suddenly in the course of a few days or a week. Depression can occur at any age, in children, young people, adults and the elderly.
Approximately 25% of people who develop depression only experience one depressive illness in the course of their lives. The risk of new depressive episodes increases with the number of episodes the person has experienced. In 10–20% of cases the depression lasts more than two years. Residual symptoms often occur from several weeks to months after an episode of depression. These can include tiredness, lack of energy, problems sleeping or cognitive difficulties (problems with concentration, overview, initiative and memory).
Among people with recurring depression, many have completely symptom-free periods of various lengths, i.e. from weeks to years or decades. However, some will continue to experience depressive symptoms with varying degrees of severity and frequency between episodes.
Depression can progress in very different ways, depending on several factors. For example, the prognosis improves if the person receives appropriate and early treatment and there is good cooperation with the therapist. Factors such as emotional and mental resources and having a social support network also have a positive influence on the process.
Årsag
Why do some people suffer from depression
There is no straightforward explanation of why some people become depressed. In general, depression can be seen as a result of a complex interaction of biological (physical), psychological and social factors.
A generally accepted model for understanding depression is what is known as the stress-vulnerability model, whereby psychological and biological factors are viewed as a whole. This model suggests that specific biological and/or psychological conditions can make a person vulnerable to developing depression when various kinds of stressful situations arise. The greater the vulnerability, the less stress is needed to trigger depressive symptoms.
In this connection, stress can be broadly defined as psychological, social or physical burdens.
Biological/physical factors in the development of depression
The biological factors that may play a role in the development of depressive symptoms include hereditary (genetic) and hormonal factors.
Studies of families show that the risk of developing depression is three times higher (than for the population in general) in people with a parent or siblings suffering from depression.
As regards hormonal changes, pregnancy and childbirth are risk factors for depression. Metabolic disorders and illnesses involving under- or over-production of the adrenocortical hormone may also lead to depression.
Certain neurological diseases such as Parkinson's disease, multiple sclerosis and strokes can also be accompanied by depression. Similarly, heart disease, arthritis and cancer can be risk factors. Finally, the use of a wide range of medications and recreational drugs can lead to depression. These include corticosteroids, beta blockers (medication for heart disease and high blood pressure) or abuse of alcohol.
We also know that reduced exposure to sunlight can trigger depression in some people. The explanation for this is not just that circadian rhythms are supported by light (via, among other things, the neurotransmitter melatonin), but that light also affects the formation and release of the neurotransmitter serotonin.
Psychological and social factors
Psychological and social factors can play a role in the development of depression. Early loss and neglect, bullying, harassment, as well as physical and sexual abuse during childhood can contribute to the development of a vulnerability which increases the risk of depression in adulthood. Social isolation, poverty and loneliness can also increase the risk of developing depression.
Some people have a personality that makes them more susceptible to developing depression. People who have low self-esteem or are very emotionally 7 sensitive, perfectionistic or dependent on others may be at higher risk of developing depression.
Different types of stress as well as upsetting events such as losses, financial problems, loss of social status, unemployment, disappointments and conflicts can trigger depression.
Whether an exceptional event has occurred or exceptional circumstances lead to depression depends partly on the person's own interpretation and handling of the situation. Research indicates that psychological and social circumstances play the biggest role as triggering factors in the first depressive episodes. Several repeated depressive episodes appear in themselves to contribute to increasing sensitivity to the development of new episodes, so that in time less and less stress can trigger a new depressive illness
Forskellige grader af diagnosen
Mild depression
At least two core symptoms and two accompanying symptoms are present in mild depression. Generally speaking, the person suffering from depression is able to continue a normal everyday routine of work and leisure activities, but with reduced quality of life. Mild bouts of depression often pass naturally.
Moderate depression
At least two core symptoms and four accompanying symptoms are present in moderate depression. The person suffering from depression often has difficulty functioning normally at work, as part of the family and in leisure activities. Moderate depression requires psychological or medical treatment.
Severe depression with or without psychotic symptoms
In severe depression, all three core symptoms are present, together with at least five accompanying symptoms. The condition is extremely unpleasant for the depressed person and often leads to thoughts of suicide. In severe depression, there may sometimes be psychotic symptoms in the form of delusions or hallucinations. Depression can bring on the delusion of being fully convinced that you are to blame for a serious accident or that the world and your loved ones would be better off without you. Hallucinations can include hearing voices saying negative things about you or encouraging you to commit suicide.
Hvordan stilles diagnosen?
How is depression diagnosed?
Depression is diagnosed on the basis of in-depth discussions and special interviews with the person in question. During the examination, emphasis is placed on the presence, degree of severity and duration of the individual symptoms. The assessment takes account of what appears reasonable and appropriate in a given situation, and also takes account of the person's usual condition.
It also explores whether the person has had any bouts of depression previously, and whether the person has any other psychological disorders such as anxiety, obsessions or compulsions. The person is also asked about any physical (somatic) disorders and symptoms
The next of kin or other close individuals can often contribute valuable information in explaining the depression. Diagnosis is important with a view to putting together the right treatment plan.
Ledsagesygdomme
What physical and mental disorders can occur together with depression?
Many people suffering from depression also have other mental health problems. In particular, drug or alcohol abuse, anxiety, panic attacks, agoraphobia, OCD or social phobias frequently occur together with depression. Eating disorders, attention deficit or hyperactivity disorders (ADHD), behavioural disorders and autism-related disorders are also associated with an increased risk of depression.
If the person has other mental health problems in addition to depression, this will typically have a negative effect on the development of the depression. It can also make treatment more complicated.
Many people with depression also have lifestyle diseases such as cardiovascular disease. Moreover, a number of physical disorders increase the risk of developing depression, especially hormone-related diseases and neurological diseases.
Depression that occurs along with a physical illness is often overlooked. Conversely, a physical illness which is present along with depression may also be overlooked. It has been shown that depression occurring along with physical illness generally worsens the prognosis for the physical illness.
Consequences of depression
Emotional vulnerability
At the psychological level, depression is often associated with a number of temporary or long-term consequences that may themselves make the person more vulnerable to new depressive episodes. Common problems are lower self-esteem, reduced quality of life, loneliness and social isolation.
Some people with depression have felt particularly sensitive or vulnerable prior to their first depression. Others have previously felt and seen themselves as robust, but experience increased emotional vulnerability as a consequence of long-term or recurring depression. This vulnerability may manifest as an increased emotional dependence on others, a tendency to quickly activate negative thought patterns or to react strongly to experiences of rejection, criticism or disagreements.
Some people with depression also develop very inappropriate thought and reaction patterns in the form of brooding, worrying and stressful self-criticism.
Cognitive difficulties
Depression is often associated with cognitive difficulties. This means having trouble staying focused, remembering and keeping on top of things.The person may find it very hard to make decisions or to plan, start and finish activities.
Some people with depression have had cognitive problems, such as problems staying focused and keeping on top of things, prior to their first episode of depression. This is the case, for example, with people who have attention disorders.
While some people mainly have cognitive difficulties during the depressive episode itself, others also experience a significant impact on cognitive functions for a long time after going through depression. While most gradually return to their normal cognitive functions, some continue to have major difficulties with attention, memory and keeping on top of things.
In some cases the cognitive difficulties worsen with the number of depressive episodes. Lasting cognitive difficulties are in themselves associated with increased vulnerability to stress and strain and are a significant factor in susceptibility to new depressive episodes.
Problems with attention, memory and maintaining an overview can easily give rise to self-criticism and feelings of shame at not living up to the person's own and others' expectations of what they should be able to do at home, in their spare time, in their studies or in the workplace. Both the person and the people around them may mistakenly interpret these cognitive problems as a sign of stupidity, laziness or lack of commitment and willingness
Mere information
Links
Fra Psykiatrien i Region Midtjylland
Patientinformation om medicin mod depression (på vej)
Fra andre
Brug ikke informationen på denne side til at stille dine egne diagnoser, og følg kun instruktionerne i vejledningen, hvis hospitalet har henvist dig til siden.